Roadbreakers
Road Hockey With Heart!
Waterloo Roadbreakers Road Hockey Tournament is looking forward to celebrating 30 years in 2015!
Thanks to all that joined us at this years tournament! We had great day of road hockey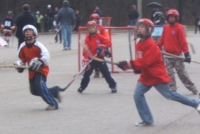 Since 1985, thousands of young road hockey enthusiasts have participated in the annual 4 on 4 Roadbreakers Road Hockey Tournament in Waterloo, Ontario. More than just a lot of fun, Roadbreakers is road hockey with heart.
From the very beginning, it's been all about kids helping kids, with tournament proceeds donated to Pride Stables.
Held on the last Saturday of April, in parking lot C at the University of Waterloo, the tournament runs sun, rain, snow or wind and is always a action-packed day!
Many thanks to the Waterloo Roadbreakers Committee and all their sponsors!