Staying in Touch
Week of Remembrance
Pride Stables remembers. Through this week of remembrance, Pride Stables took a moment on November 11th to pay tribute to all those who have served in war. We remember not only the brave humans, but also the animals who have served. As a way to promote the awareness of these animals, take a moment to read this review of the emotional movie War Horse directed by Steven Spielberg. Then if you want to learn more, check out the movie as well! (May not be suitable for young or sensitive viewers, please use your discretion).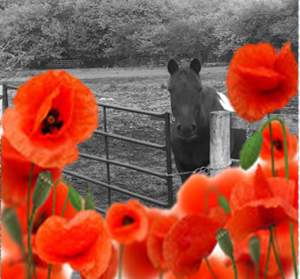 ---
Happy Hallowe'en!
Our four-legged friends got into the spirit the week leading up to hallowe'en!  They wish you a safe, fun and happy hallowe'en! Check out some of the fun costumes they sported below. Can you figure them all out!?
---
Colour your Dream Horse!
There are lots of different colours of horses!
Did you know there are five major colours of horses? They are bay, chestnut, black, grey, and white. There are also common colours of horses such as dun, palomino, pinto and roan.
Here at Pride Stables we have seven different colours of horses in our paddocks. You will find horses here that are black, grey, buckskin, palomino, paint, chestnut, and bay. Can you name a horse in each of those colours?
Click on the image below to download horse colouring sheets!
Colour them in as your favourite horses from Pride Stables or colour in your dream horse!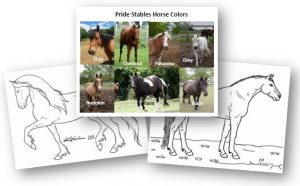 ---
Hello from us to you!
Enjoy this video update from everyone at Pride Stables! (August 31, 2020)