Staying in Touch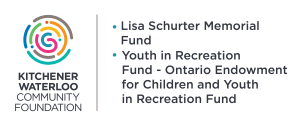 Funding for our Staying in Touch initiative and the GoPro camera to make our updates for you is supported by the Lisa Schurter Memorial Fund and the Youth in Recreation Fund – Ontario Endowment for Children and Youth in Recreation Fund held at Kitchener Waterloo Community Foundation.
---
Parts of the Horse Challenge
We've put together a word search where we've hidden a list of words related to the horse. Don't forget to hunt diagonally and backwards! Click the here to download the challenge.
Have you found every word!? Take it a step further and use the words you found to label the correct parts on the horse. Once you give that a good try, check your answers here!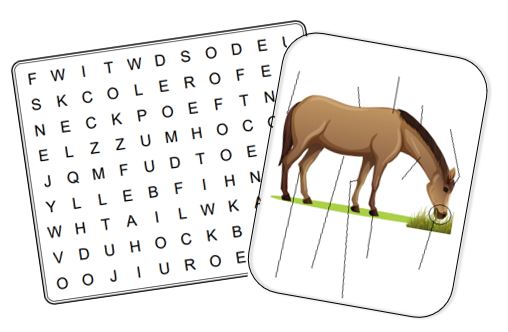 ---
Crossword Challenge
Has it been awhile since you've been out to the stables? Do think you can remember the names of many of the horses and ponies that call Pride Stables home? We've created a fun challenge for you below! You might find some clues easy while others have you stumped a bit longer. Why don't you give it a go? Good luck!
---
Behaviour Breakdown
Do you sometimes see horses in the field rolling around on the ground? Have you wondered what this behaviour is all about and why they do it?
Rolling is a natural behaviour for horses & they roll about for any number of reasons.
First, it can help loosen their hair & shed their coat. (If you've been in the barn or ridden in the springtime, you know the hair flies as the weather warms and we approach summer!
Horses also roll to release physical or mental tension but also just for pleasure! Horses will roll when they feel relaxed and safe so it is really nice to see our friends rolling about in the paddocks here at the stables.
You know how yawning is "contagious" from one person to another? Well rolling can be the same for horses – that's why you'll often see one horse roll after another!
Check out these photos of Hercules and Charday doing just that! (Though Danny could not be convinced to join them).
---
Look at all that hair!
With summer upon us, it's time to get ready for the warmer weather!
Do you have a family dog at home? Do you notice that they leave more hair around the house or in your hand when you pet them at this time of year?
Horses naturally shed their thick warmer coats just like our dogs when the temperatures start to rise. It is always satisfying to give them a nice groom to help them on their way to a fresh, sleek coat!
---
Breakfast Routine
Just like your mornings, every day here at the stables starts with breakfast. Of course there is some quality-control of the "delivery" enroute by the breakfast chaperone, and always one straggler late for breakfast!
---
Sunny Sky Hellos
The horses have [socially distant] kisses to send your way! They sure enjoy clear, sunny winter skies. Don't we all?! Watch until the end to catch the big boop from Miss Nahauni.
---
Which hues will you choose? Paint your dream barn!
Imagine you had a paint brush, a giant ladder, and a few pails of paint in your favourite colour. Which hues would you choose to paint the barn!?
Maybe you will go for one bright shade or a combination of a couple favourites. Maybe you'll choose a different colour for each board or make a fun pattern instead! It's time to bring your barn design to life! Put your markers, coloured pencils or paint to paper and get creative!
Click below to download the Pride Stables barn painting pages and unleash your imagination!

---
Cozy in December
The cold wind and flurries have blown in, but Trouble is as cozy as ever! She made the "nice" list this year and got an early gift of a warm new bed. Check it out below!
Trouble missed seeing you all at our holiday open house which sadly, did not happen this year, but she looks forward to seeing you again (as we all do!) as soon as we are able to in the months ahead.
---
Week of Remembrance
Pride Stables remembers. Through this week of remembrance, Pride Stables took a moment on November 11th to pay tribute to all those who have served in war. We remember not only the brave humans, but also the animals who have served. As a way to promote the awareness of these animals, take a moment to read this review of the emotional movie War Horse directed by Steven Spielberg. Then if you want to learn more, check out the movie as well! (May not be suitable for young or sensitive viewers, please use your discretion).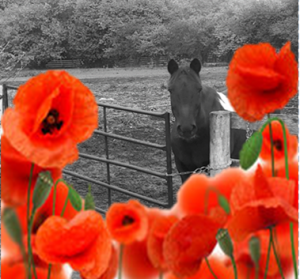 ---
Happy Hallowe'en!
Our four-legged friends got into the spirit the week leading up to hallowe'en!  They wish you a safe, fun and happy hallowe'en! Check out some of the fun costumes they sported below. Can you figure them all out!?
---
Colour your Dream Horse!
There are lots of different colours of horses!
Did you know there are five major colours of horses? They are bay, chestnut, black, grey, and white. There are also common colours of horses such as dun, palomino, pinto and roan.
Here at Pride Stables we have seven different colours of horses in our paddocks. You will find horses here that are black, grey, buckskin, palomino, paint, chestnut, and bay. Can you name a horse in each of those colours?
Click on the image below to download horse colouring sheets!
Colour them in as your favourite horses from Pride Stables or colour in your dream horse!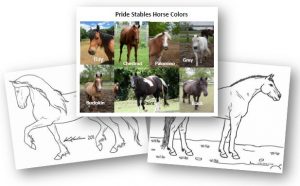 ---
Hello from us to you!
Enjoy this video update from everyone at Pride Stables! (August 31, 2020)