Camp Pride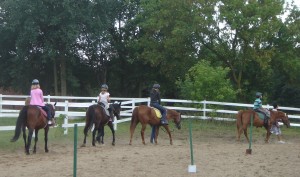 Camp Pride is a fully integrated day camp open to children aged 6 – 12 years with or without special needs. The program is designed to ensure that each camper has an active, challenging, and fun summer camp experience.
To provide a unique day camp experience, Camp Pride offers a variety of camp experiences including:
One hour each morning riding our horses. During the riding lesson, basic riding skills will be learned and practiced. Campers will also have an opportunity for games on horseback. There is one Riding Coach per 6 campers as well as trained volunteers to assist with each rider. The riding program, designed for beginner level riders, is progressive and tailored to the individual.
During the afternoon, campers will participate in exciting and stimulating camp activities, including arts, crafts, sports, and games.
Both "Camper Information" and "Insurance Form" need to be completed for each camper:
Camp Pride 2018 CAMPER INFORMATION  Insurance Form – under 18yrs old
For Campers attending camp the week of July 30th-Aug 3rd ONLY please use these forms:
Camp Pride 2018 OLDER CAMPER INFORMATION
Insurance Form – under 18yrs old Insurance Form – 18 or older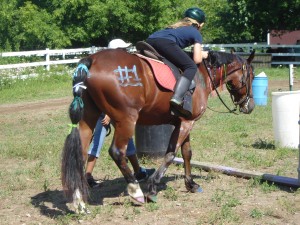 Camp Pride Hours
Monday to Friday: 8:30am – 4:00pm
Extra hours of supervision may be purchased (8:00am – 5:00pm) and MUST be arranged PRIOR to camp starting.
Camp 2018 Session Dates
Week 1 – July 2nd- 6th  HALF DAYS ONLY 
Cost for Week 1 (HALF DAY ONLY): $150
Camp hours for Week 1: 9am-12pm only
Week 2 – July 9th-13th
Week 3 – July 16th- 20th
Week 4 – July 23rd-27th
Week 5 – Aug 6th-10th * 4 DAYS ONLY* 
Cost for Week 5 (4 days only): $240
Week 6 – Aug 13th-17th
Week 7 – Aug 20th-24th
* Each camp session is one week in length
* Cost of $300.00 per week (unless otherwise specified)
* This includes a special Camp Pride T-Shirt
**BACK FOR ANOTHER YEAR**

*Campers 13+ with a Disability Week*
July 30th – Aug 3rd
Camp Pride is offering a week of camp for individuals with a disability aged 13 years & older

Camp Pride Hours for Jul 30-Aug 3 –
Mornings: 9am-12pm
Full days: 9am-4pm
Campers can come for the morning only or the full day during this week of camp.
Cost for half days: $150.00
Cost for full days: $300.00
Please note: Accommodations for campers over the age of 13 with a disability can be made for them to attend one of our other Camp Pride weeks. Please inquire.
Camp Volunteers are also needed for Camp Pride 2018!
*Update – Effective February 2018* volunteers must be 15 years of age before volunteering for summer camp. Additionally, volunteers must not be eligible to ride in our regular riding program.
Please check the Volunteer Page for more details.
Camp Pride is located at Pride Stables
584 Pioneer Tower Road
Kitchener, ON  N2P 2H9
Email: info@pridestables.com
Phone: 519-653-4686
Fax: 519-653-5565