Volunteers
Volunteers – We Can't Do It Without You!
Welcome 2017 Volunteers!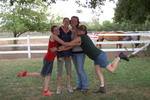 If you are interested in volunteering with us please call the office 519-653-4686.
Upcoming Volunteer Training Dates
Forms required for training
**Important! If you are under the age of 18, a parent/guardian is required to sign the insurance form before training as instruction is hands-on with the horses. Thank you!
Remember, only attend one date and time and REGISTRATION IS REQUIRED. Please call office to register for a training date (519-653-4686) or email volunteering@pridestables.com.
Upcoming Fall 2017 Training Dates
Wednesday, Sept 6th 12-2pm & 6-8pm
Thursday, Sept 7th 12-2pm & 6-8pm
Saturday, Sept 9th 12-2pm
Tuesday, Sept 12th 12-2pm & 6-8pm
Thursday, Sept 14th 12-2pm & 6-8pm
Monday, Sept 18th 12-2pm
Wednesday, Sept 20th 12-2pm
You only need to attend one training session. Registration is required!
PLEASE MEET IN THE BARN TO BEGIN YOUR TRAINING…SEE YOU THERE!
Class Times
Summer Session 2017
Camp Pride – 8 Weeks:
Must be 14 years or older. 
We are looking for volunteers from 8:30 until noon, Monday to Friday and we ask volunteers to commit to at least one full week.Week 1 – July 3 – 7
Week 2 – July 10 – 14
Week 3 – July 17 – 21
Week 4 – July 24 – 28
Week 5 – July 31 – Aug 4 (older campers)
Week 6 – Aug 8 – 11 (4 days)
Week 7 – Aug 14 – 18
Week 8 – Aug 21 – 25
___________________________________
Summer Evening Sessions – 4 Weeks each
Must be 15 years or older. #1 Begins Tuesday July 4 and Thursday July 6
#2 Begins Tuesday Aug 8 and Thursday Aug 10
Classes are 45 minutes and volunteers are asked to be here 30 minutes prior to class.
Class times are 6:00, 7:00, 8:00.
Volunteers are asked to commit to one or more classes, once a week for the full 4 weeks of session.
Fall Session 2017
*Stay tuned
Winter Session 2018
*Stay tuned
Spring Session 2018
*Stay tuned
---
If a different volunteer was used for every session, Pride Stables would need over 250 different people! Fortunately MANY of our volunteers spend many hours, and often more than one day a week helping our special riders maneuver around the arena.
There are a couple of different volunteer opportunities available at Pride. For ease of scheduling and interest, your instructor will help you determine which position will enhance your volunteer experience!

A Leader is the most common volunteer position as we need one leader for each child. Click on the menu for a detailed job description of the Leader.
A Side Walker is also needed for many of our children with a physical special need. Click on the menu for a detailed job description of the Side Walker.
Important!
Volunteers are asked to commit at least one and a half hours a week during our ten week sessions: Fall, Winter, Spring or Summer. Volunteers must be 15 years of age during the Fall, Winter, Spring and Summer sessions.
During summer camp, volunteers are required to commit to 4 hours a day for one week. Volunteer must be 14 years of age during summer camp.
Volunteers are always needed, especially DAY TIME volunteers. If you can help or know someone who can help, please contact our office.
Office Phone
519-653-4686 (9:00 – 4:30 Monday through Friday)
Barn Phone
519-653-8736 (Evenings and Weekends)
Email
volunteering@pridestables.com
(Please only email if you are not in a rush for a response! Thanks!)