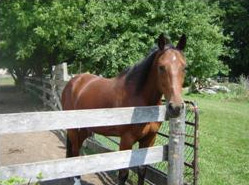 Remington
Nickname: Remi
Date of Birth: 1998
Breed: Standardbred
Colour: Bay
height: 15.1 hands
Gender: Gelding

Although he is not the biggest horse in the field he is definitely the boss. This ex-racehorse has settled into his job as a therapy horse like a champ. Time to trot? Hold on tight his trot can get a little bouncy.
Sponsor: George & Beverley Chris
Stall Sponsor: Remi would love a stall sponsor!